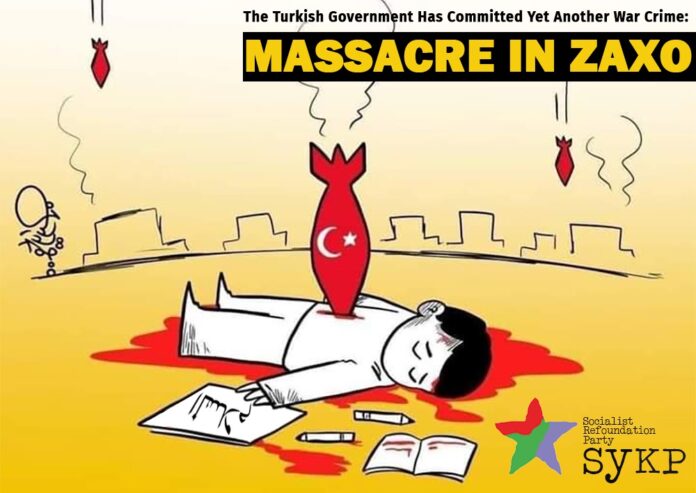 Our Central Executive Committee made a statement on the attack by the Turkish Armed Forces in Zaxo yesterday, in which 9 people, including 1-year-old baby and children, lost their lives.
In the statement, it was pointed out that the attack was the 2nd Roboski and underlined that war crimes were committed for the sake of staying in power. The full statement is as follows:
The Turkish Government Has Committed Yet Another War Crime: Massacre in Zaxo
The village of Perex in Zaxo city of Duhok province in the Kurdistan Regional Government of Iraq was shelled 2 days ago. (July 20).
Iraqi Government and Kurdistan Regional Government officials announced that the attack, which killed 9 civilians including 1-year-old baby and children and wounded 23 people, was carried out with mortars belonging to the Turkish Armed Forces. This is a new Roboski massacre!
The military operations carried out in the Kurdish-populated regions in the north of Iraq and Syria since April, and the chemical weapons that have been observed to have been used, each time add a new one to the AKP-MHP's war crimes. Moreover, there are not only deaths during these invasions; thousands of people are displaced. Does the government dream of expanding Turkey's borders by demolishing and reconstructing these villages?
We know that the AKP-MHP government has the potential to commit new massacres if not stopped. With dreams of expanding and becoming a power in the region, the government uses a chauvinist, racist, neo-Ottomanist discourse for political gain while gaining the support of capital by making labor precarious and cheap. Moreover, it criminalizes the politicians in the opposition and tries to intimidate the opposition masses with oppression and fear. 
This attack is part of this grand plan: The power balance which has been established by the AKP-MHP government through years of domestic oppression, economic crisis, exploitation, lies and plunder is almost broken, and they want to consolidate it with war policies. The government seeks war and heroic epics at the expense of killing children. However, those who are behind this policy will be tried sooner or later.
We feel deep grief and anger for those killed and injured in Zaxo. Humanity will remember them together with the tens of thousands that were displaced and many villages that were uprooted so that the one-man regime could continue.
We will not allow war funds to be inflated with money stolen from the peoples, laborers and young people and turned into bullets fired at children!
We call on everyone to fight for the immediate and complete withdrawal of the Turkish Armed Forces from the region, for the cancellation of the war authorizations, for the prosecution of those responsible and for the establishment of the ground for peace, dialogue and solution.
SOCIALIST REFOUNDATION PARTY (SYKP)
CENTRAL EXECUTIVE COMMITTEE